A corridor of hope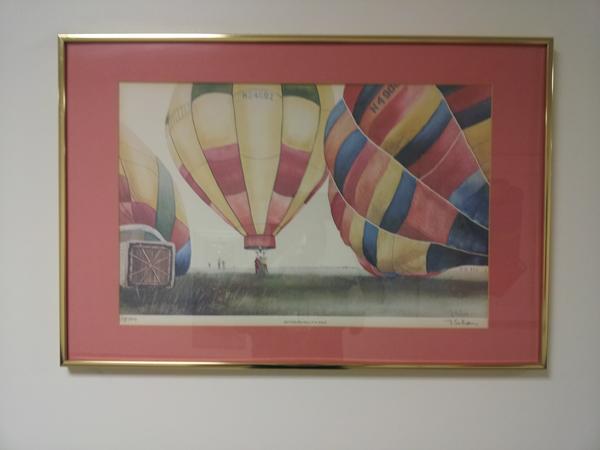 Commit thy way unto the LORD; trust also in him; and he shall bring it to pass. Psalm 37:5
The Lord led us down a corridor of hope! There are only four pictures hanging on the white walls leading to our room at the end of the hall. They each caught my eye as I wheeled Dean to our room yesterday. The first was a typewriter, the second a Nikon camera, the third a roll of camera film, and last hot air balloons! All these pictures are meaningful to Dean and me.
The typewriter: The beginning of our friendship began with Dean sending an email after our first 8-minute conversation on March 3, 2011. We continued to write messages during our entire friendship and soon text messages and notes became a diary of our love story. And now I sit typing this new chapter as it unfolds. Background history: In second grade, my dreams began with becoming an author and illustrator of children books. As a preschooler, my mom would walked me to the little library in downtown Mercersburg for Story Hour. I loved the library and the endless rows of books filled with stories, knowledge, facts, and adventure just waiting to take its captive audience on a ride. There was no limit to the possiblities and soon I dreamed of being a pilot, teacher, photographer, missionary, doctor, and Bible translator but my deepest longings were answered the moment Dean asked me to be his wife and all the opportunities that awaited with raising a family together.
Nikon Camera: If anyone has ever had a conversation with Dean about cameras, they would know his number one choice is Nikon. He purchased many Nikon cameras over the years and just received their newest model while we were in Alaska. Thankfully, I chose Nikon over Canon which was to my benefit upon meeting Dean! I had bought my first Nikon SLR in November 2010 after working for Lifetouch Church Directories where I became familiar with Nikon. I wanted to start my own portrait studio on the side while finishing college. I first saw him on top of a snowgun with his SLR camera taking photos at the Cardboard Derby Race. He seemed confident and knowledgeable even from a far distance and I wanted to ask him some questions about cameras. However, this mysterious photographer disappeared but God redeemed the opportunity and led my footsteps to Dean a week later.
Roll of Camera Film: We have taken thousands of photographs together! Thankfully, they are all digital.
Hot Air Balloons: Many of you know this story already from my previous blog. Snapshot: My dream was to float away in a hot air balloon after our wedding. A few weeks before our wedding, I let go of this dream due to several reasons but Dean promised me that one day we would take a hot air balloon ride together! (The nurse told me a former TBI patient painted this photo.)
God has a special way at reminding us in the most simple ways that he has not forgotten our dreams, our prayers, the desires of heart, and his promises for our future together. They have 4 different halls here and God placed us exactly where he wanted us to be. He is writing our love story and we must simply trust Him! Commit thy works unto the LORD, and thy thoughts shall be established. -Proverbs 16:3
Now the God of hope fill you with all joy and peace in believing, that ye may abound in hope, through the power of the Holy Ghost. -Romans 15:13
November 14 - Day 152
Day of Evaluations
It was a busy day for Dean after a long restless night. I tried to convince him throughout the night that he needed to sleep but he was wide awake until the rising of the sun so I asked the Lord to give him extra strength. The various therapies observed how Dean got dressed in the morning, communicated, his cognitive thinking, physical abilities such as sitting, standing, and following commands so they could make appropriate goals for him over the next few weeks. He did very well but by afternoon his lack of sleep was catching up to him. It was also lots of excitement, new people and a new environment. Pray Dean adjust quickly to his new schedule so he may benefit from all his therapy sessions.
November 15 - Day 153
Last night, he slept a little better but was awake between 3- 6 am. I awoke to him loudly counting numbers as he skipped all around between 1 to 100. Perhaps, he was counting sheep? So I started counting with him and he repeated after me. We eventually got to 50 and he was no longer interested in counting. They gave me a single bed that is about 3 1/2 feet from Dean's bed. However, when he seems restless I just crawl into his bed and lay next to him for awhile or fall asleep. Dean knows I love to snuggle with him and you can't get much closer than in a single bed with railings. The transition from Quincy to Healthsouth has been very smooth! They allow me to do all his basic care and be involved in all his therapies.
Dean's New Schedule
8:00 - 9:15 am - We get washed, dressed and eat breakfast together.
9:15 - 9:45 am - Speech Therapy
9:45 - 10:30 am - Occupational Therapy
10:30-11:15 am - Physical Therapy
11:30 -12:30 pm - Lunch
12:30-1:15 pm - Rest time
1:15 - 2:00 pm - Speech Therapy
2:00 - 2:45 pm - Physical Therapy
3:00 - 5:30 pm - Rest time
5:30 - 6:30 pm - Dinner
7:00 -7:30 pm - Shower or Washing time before bed
7:30 - 9:30 pm - Rest Time (However when he is awake, we are always doing something together whether it is talking, reading, praying, phone
conversations, visiting with family, listening to music, light stimulation, or stretching.)
9:30 pm - 8 am - Ideally Dean's time to sleep but he is changed throughout the night every 2 hours. (Thankfully, my nose has become more sensitive
and often times I change him before the nurses come into the room. I probably go through more briefs than normal because I like to
keep him as dry and clean as possible.)
This schedule is subject to change on a daily basis but the morning therapies are consistent.
For I know the thoughts that I think toward you, saith the LORD, thoughts of peace, and not of evil, to give you an expected end. -Jeremiah 29:11
Other Entries