September 10 - Day 88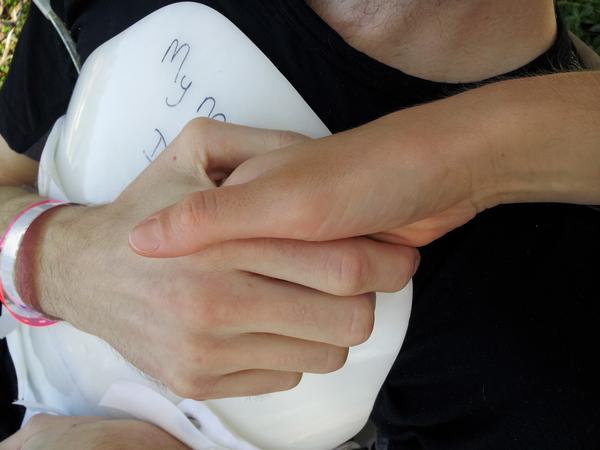 I waited patiently for the Lord; and he inclined unto me, and heard my cry.
He brought me up also out of an horrible pit, out of the miry clay, and set my feet upon a rock, and established my goings. And he hath put a new song in my mouth, even praise unto our God: many shall see it, and fear, and shall trust in the Lord. –Psalm 40:1-3
After 84 days, Dean's tracheostomy was completely removed this morning! He is doing excellent breathing on his own! The hole is about as round as my middle finger and in few days to a week it should grow shut. It's amazing how this wound heals without any stitches! The doctor just pulled it out and placed a piece of gauze over it. We give thanks to the Lord for sustaining Dean and restoring his ability to breathe! I remember the heavy clouds on June 15, 2012 as the doctor looked me in the eye and told me that Dean may never breathe on his own, and the swelling in his brain would increase causing him to eventually die or remain in a vegetative state for life. I praise God Dean is alive; he is breathing, he opens his eyes, he moves his hands, he swallows, he coughs, he hears and this list will continue with each new day! God is giving Dean a special strength for this marathon! The Lord hears our prayers and the answers are on the way! Blessed be the Lord, because he hath heard the voice of my supplications. The Lord is my strength and my shield; my heart trusted in him, and I am helped: therefore my heart greatly rejoiceth; and with my song will I praise him. –Psalm 28:6, 7 Let us rejoice with gladness in our hearts for what God has done, is doing and will do!
Around 11:30 am, the therapist made a custom cast to stretch Dean's left arm with a special focus on his wrist. They plan to do a series of casts in order to bring Dean's left wrist into a neutral position. Dean has so much tone in his left arm that he's unable to keep it in a straight position because his muscles are constantly firing without purposeful control. Our goal is to keep it flexible so it can function properly when he gains control over it. They will monitor his skin for breakdown and proper blood circulation. The cast will be removed on Thursday if he tolerates it.
Ten hours later, the cast was sawed off due to redness developing in the crease of his elbow. He pulled his arm towards his chest with increased pressure as the cast rubbed against his arm. This can quickly develop into an open skin wound. If I notice him sleeping, I gently pull his arms away from his body so they can relax. After I stretched his left arm out, he seemed to relax but when someone disturbs him, he feels pain or for some other unknown reason, I notice him quickly tighten his arms in response. He has also been on a medication to relax his muscles from being spastic. This prolonged cast stretch on Dean's left arm is like you doing a split and holding it for 72 hours.
Please pray:
-against any infections while Dean's trachea is healing.
-that the thrush in his mouth and throat would clear up. (The thrush is hindering us from giving Dean a swallow test and trying different liquid forms.)
-his urinary infection would be healed.
-the guardianship would be completed soon and court date set.
-that Dean would display some form of consistent communication.
-the ability for his brain to interpret what his eyes are seeing. (He puts a lot of effort into keeping his eyes open and trying to focus.)
-for his brain and entire body to be completely restored!
Other Entries