2 years later... Love perseveres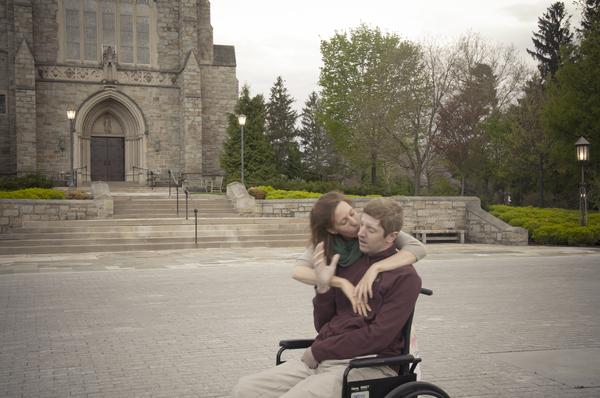 June 22, 2014
It has been several months since I posted but I want to thank you all for your steadfast prayers!
On May 5th, we celebrated our 2nd year of marriage. We renewed our vows in the gardens behind the chapel and took a few snapshots. I thank the Lord for love He has shown me and it is His love that overflows into our marriage. Even in my brokenness, I have a deep love for my precious husband that may seem unexplainable to others when no love is returned but that is a glimpse of God's love for us. I've come to the place where I can say, "If God has brought us to this valley just so I can know Christ in his sufferings and the power of His resurrection then it is worth every tear, yes even every broken dream. If I may experience the depths of his love in a richer way so that I may know Him more and reflect His unconditional love, then suffering is a blessing in disguise."
Where Dean is at 2 years after the accident:
He is still working on muscle control, standing, stepping, core strength, and balance. His physical improvement is very gradual and therapist classify it in the terms of "plateauing" so by the end of May we were discharged from Outpatient Physical Therapy for the 2nd time. However, Dean still requires much therapy so I always look for alternative ways to keep him active. We go to the gym 3 times a week to exercise and we were doing some swim therapy on our own. We also do standing and balance exercises at home. Being wheelchair-bound, he does move around alot as I transfer him about 19 times a day. I was able to purchase a walking frame from your generous donations in hopes to assist him in his walking but it is still too advanced for him. He plays the keyboard and sings in the morning. He also participated in music therapy for several months this spring; we plan to resume lessons soon. We attend church regularly and spend time with family often. We make trips over to the Mercersburg Printing and he enjoys talking with everyone. Sadly though, he doesn't think they like him or he belongs there. He knows facts about Dean yet denies he is Dean. We go grocery shopping and to various stores together. He enjoys going into restaurants for a bite to eat when I give him the option. I try to give him choices and let him make as many decisions possible. He continues with speech therapy twice a week and we are focusing on categorizing and making sentences. His brain is like a maze and words are easily mixed up or blocked. He may say, "can you take the hose but meaning cup or can I have the camera but meaning the phone." Other times a perfect sentence comes out crystal clear. At times he makes profound statements and others times he struggles to answer simple questions. He is able to retain some information and build upon what he is learning.
He is currently phasing out of a 6-week sleep cycle. It is a time where his body requires extra sleep for healing. His days and nights get mixed up; being blind also confuses his biological clock. He may sleep most of the day and be awake through the night. He is learning to be patient with me in the mornings. If you ask him, he will say, "I haven't slept for days." The hardest part is trying to rearrange our day schedule for therapy/activities and adjusting to the restless nights in the beginning. But I know this too shall pass and God gives me the strength. I'll apologize to him during the night because I am at my weakest when I'm exhausted and find myself a little more frustrated with the situation. I thank the Lord for the gift of being a light sleeper so I can care for Dean yet able to instantly fall asleep when I close my eyes. I notice slight cognitive improvements during these periods and have been keeping track of his sleep patterns for the past 6 months.
Faith abounds in my heart as I wash dishes believing, yes, hoping that when I turn around Dean will be standing by the door. Or I will be in the basement doing laundry and imagine him at the top of the stairs. While I'm in the shower or when he wakes up in the morning that he will be restored to me. It's a very real feeling and I anticipate His return. I also have this great urgency to prepare for him and can't wait to share daily life with him again. Hebrews 12
Please join us in a day of special prayer for Dean on Tuesday, June 24. Prayer requests on our "Home" page.
This is a spiritual battle: put on the whole armour of God - Ephesians 6:10-18
with love,
Dannielle
Other Entries