August 20 - Day 67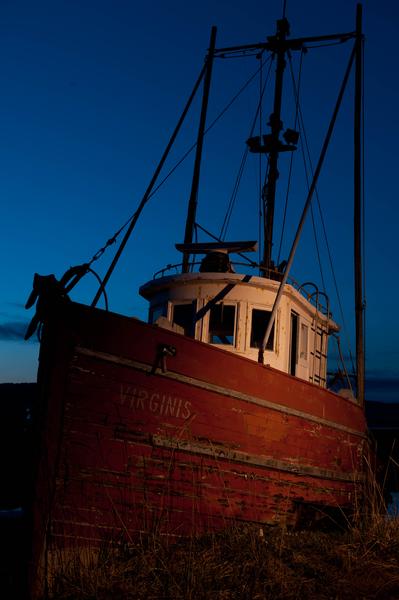 Looking unto Jesus the author and finisher of our faith; who for the joy that was set before him endured the cross, despising the shame, and is set down at the right hand of the throne of God. -Hebrews 12:2
While I was warming up my oatmeal in the kitchen, I saw a large vessel flash across the news channel causing my heart to sink. I could almost feel Dean's long arms wrapped around me as I leaned over the stern of the ship. We had taken a four hour cruise in Seward, Alaska, and two hours into the ride half of the people on the ship became seasick. Thankfully, Dean and I had empty stomachs. I longed to return to shore but Dean was strong and I felt safe in his steady embrace. He told me to look straight ahead and fix my eyes on our destination ahead. In the far distance I could see mountains and tried to imagine life on land again. If I looked at the waves crashing around, I quickly became weak. I know as we fix our eyes on Jesus, he will enable us to walk on these raging waters. I remind Dean and myself that Jesus is the author and finisher of our faith!
There is a beautiful story in the Bible found in Matthew 22:22-33 after Jesus fed the multitudes.
And straightway Jesus constrained his disciples to get into a ship, and to go before him unto the other side, while he sent the multitudes away. And when he had sent the multitudes away, he went up into a mountain apart to pray: and when the evening was come, he was there alone. But the ship was now in the midst of the sea, tossed with waves: for the wind was contrary. And in the fourth watch of the night Jesus went unto them, walking on the sea. And when the disciples saw him walking on the sea, they were troubled, saying, It is a spirit; and they cried out for fear. But straightway Jesus spake unto them, saying, Be of good cheer; it is I; be not afraid. And Peter answered him and said, Lord, if it be thou, bid me come unto thee on the water. And he said, Come. And when Peter was come down out of the ship, he walked on the water, to go to Jesus. But when he saw the wind boisterous, he was afraid; and beginning to sink, he cried, saying, Lord, save me. And immediately Jesus stretched forth his hand, and caught him, and said unto him, O thou of little faith, wherefore didst thou doubt? And when they were come into the ship, the wind ceased. Then they that were in the ship came and worshipped him, saying, Of a truth thou art the Son of God.
Dean's therapy sessions begin at 9 am and last until 2:30 pm with a few rest periods between. He has been very tired during his therapy so they apply pressure to awaken him. His attention span quickly fads in and out. He had x-rays of his chest and left leg in the afternoon. He has a lot of swelling in his left leg which may be a source of pain for him. He has been carrying fevers through the nights with low blood pressure and a high heart rate. He no longer needs to be on an oxygen tank! Dean also has anemia which is a decrease in number of red blood cells (RBCs) or less than the normal quantity of hemoglobin in the blood. He has been given extra Iron for weeks to help his red blood cell production. Please pray that his body is able to replenish his blood count!
Today, I decorated our room with large wedding pictures and now I am surrounded with beautiful memories. Everyone enjoys looking at them. Our wedding day was like a beautiful dream and now I wonder if it were only a dream. But even as the sky is blue and the grass is green, I know my memories of life with Dean were real!
On April 18, 2011, we made our first memory of light painting and that was just the beginning. The picture above was take while we were in Alaska after midnight when it was completely dark. Dean stood off to the side and held a flash towards the boat while I stood at distance in front of the boat with the camera on a tripod which he set for a long exposure. (There is no editing to these pictures.) It was so much fun working together as we painted these forsaken boats. They had a story to tell and we wanted to illuminate it.
Other Entries