September 3 - Day 79-81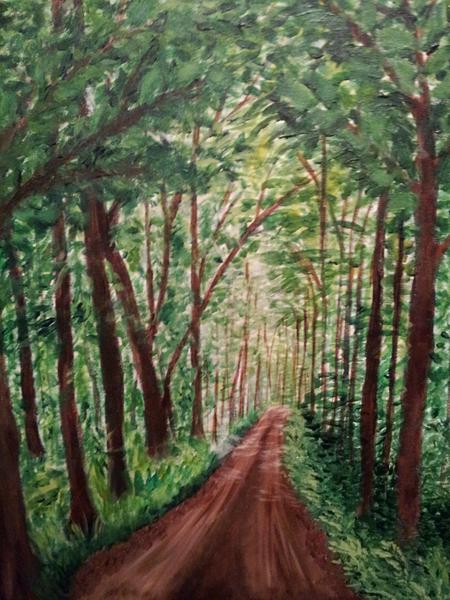 Therefore shall ye lay up these my words in your heart and in your soul, and bind them for a sign upon your hand, that they may be as frontlets between your eyes. And ye shall teach them your children, speaking of them when thou sittest in thine house, and when thou walkest by the way, when thou liest down, and when thou risest up. -Deuteronomy 11:18-19
It builds our faith to remember and give thanks to God for what he has already done! This will encourage us in whatever we may face today along with giving us an eternal perspective for the future. As believers in Christ, we have a beautiful history with God from "The Beginning." We are a part of God's Story. It was essential for the Israelites to remember how God delivered them out of Egypt especially when their faith began to waver. The enemy was at their back but God went before them and prepared the way. He completely surrounded them with His presence! They only had to trust, obey and follow. When they came to the Red Sea, God raised the waters and led them through on dry land into the Promise Land. God instructed the Israelites to meditate upon his Word and not forget all his benefits. It is the same for us today. Bless the Lord, O my soul: and all that is within me, bless his holy name. Bless the Lord, O my soul, and forget not all his benefits: Who forgiveth all thine iniquities; who healeth all thy diseases; -Psalm 103:1-3
I was reflecting upon different times God has answered my prayers. One simple story comes to mind. When I was about twelve years of age, I prayed that God would give me more brothers and sisters. How would God answer my request which seemed impossible at the time? For with God nothing shall be impossible. –Luke 1:37 My dad was dead, my mom was single, her tubes were tied and I only had one older brother, David. Over the years, in God's timing, he blessed me with brothers and sisters of every possibility. I call it the "combo deluxe family": one biological brother, two half-sisters, one half-brother, three adopted sisters, one adopted brother, one step-sister, one adopted step-sister, and one foster sister. The answer to this prayer didn't start taking placing until four years after I asked the Lord. The Lord wasn't finished blessing me because he knew how much I desired older brothers and sisters too. When Dean and I became one, he shared his family with me and suddenly I had six big brothers and one big sister along with several sister-in-laws, and a brother-in-law. I also have multitudes of brothers and sisters in Christ! I marvel at how God heard my simple request and answered above and beyond what I could ever fathom. That he would grant you, according to the riches of his glory, to be strengthened with might by his Spirit in the inner man;That Christ may dwell in your hearts by faith; that ye, being rooted and grounded in love, May be able to comprehend with all saints what is the breadth, and length, and depth, and height; And to know the love of Christ, which passeth knowledge, that ye might be filled with all the fulness of God. Now unto him that is able to do exceeding abundantly above all that we ask or think, according to the power that worketh in us, Unto him be glory in the church by Christ Jesus throughout all ages, world without end. Amen. –Ephesians 3:16-21
Another desire was to marry on my 27th year. According to God's perfect timing He brought our paths together (God literally led my footsteps to Dean one cold winter day), romanced our hearts, and we gladly gave our vows about nine months after my 27th birthday. Commit thy way unto the Lord; trust also in him; and he shall bring it to pass. And he shall bring forth thy righteousness as the light, and thy judgment as the noonday. –Psalm 37:5-6 ( I love hiking and taking long summer walks with Dean. I painted this picture for Dean last Christmas to represent my desire to walk with him on this journey of life.)
But as it is written, Eye hath not seen, nor ear heard, neither have entered into the heart of man, the things which God hath prepared for them that love him. -1 Corinthians 2:9 One of Dean's black shirts got a small whole in the front and I was thinking about how I needed a sewing kit so I could mend it. Well, the Lord knew before I ever even asked or saw the tear. The answer was already on the way and the very next day a gift arrived with a sewing cut! It came with not just one sewing kit but two small sets both including black thread and needles. The next morning I mended the whole in his shirt. The following day, I noticed a large tear in his blue linen shirt caused by his chest brace. (The kit had blue thread too!)The Lord provided for our needs just at the right moment!
If any man speak, let him speak as the oracles of God; if any man minister, let him do it as of the ability which God giveth: that God in all things may be glorified through Jesus Christ, to whom be praise and dominion for ever and ever. Amen. -1 Peter 4:11 We all have testimonies of how God has answered our prayers in the past and we must keep remembering what God has done, thanking him while trusting him with our present requests and dreams. We must be steadfast in our prayers and patiently wait. God will bless us in his perfect timing according to His will! No need is too great or too small.
September 1 - Day 79
This morning Dean moved his head twice in response to me calling his name during his therapy session. We coach him through this process and it takes a lot of effort on his part along with patience. We all know Dean to be very quick and agile but currently he has a delayed response. Therefore, it is important to understand how much his brain is working to do simple tasks as it builds new pathways and rebuilds the broken bridges in order to send messages throughout his body. The human brain is a mystery to man but not to God who created this beautiful masterpiece. We turn to the God who created Dean in his mother's womb, knows him entirely and is able to heal him completely!
In the morning, he was unable to go on the tilt table due to his low blood pressure but later in the afternoon his blood pressure was better. While he was on the tilt table, we noticed him becoming quite agitated because he needed changed. The therapist was pleased to see him pulling at his brace and pants in response to his condition. Over the past few weeks, I've noticed him becoming more expressive with his face. I look forwards to when he can communicate more with us so we can better meet his needs and care for him. The doctor showed me how Dean can inhale and exhale through his nose and mouth! They will resume the process of downsizing his trach to a 4 with the goal of removing his trach entirely! We continue to ask the Lord for Dean's complete healing and give Him thanks for every answer to prayer!
September 2 - Day 80
The therapists transfer Dean from his wheelchair onto a low rising table. One therapist will sit on a ball behind him to support his back and hold his head up. Another therapist will sit in front of him and work with his hands, legs, sight, and speech in order to see his response to following simple commands. The therapists have been working with Dean to sit in an upright position since he came to Kessler. Usually the therapist must hold his forehead to keep his head from dropping forwards. I've noticed his neck muscles becoming stronger as the drop becomes slower. When he is upset, he actually pulls his head downward. At times, he shows purposefully resistance towards nurses or therapist. He has a lot of strength in his arms and many people comment on this. It was the first day that I saw him keep his chin up and balance his head while sitting in an upright position! He kept his head up for several minutes before dropping it forward. We repeated this several times with him and sometimes it would go backwards. He did an excellent job and quickly we could see how he became tired. Dean also continues to turn his head to the left or right in response to his name being called. It requires patience, prompting, and someone supporting his neck through the turn. He does well at bringing his head to the center. He still wears a chest brace whenever he is out of bed and it gives him some level of discomfort because it is a hard plastic shell that at times presses into his legs and pinches his pectoral muscles. It would be great to know from the spinal doctor the condition of his back but this will require another hospital visit. He must wear the brace until his back is cleared by the doctor and he no longer needs the support of the brace. Please pray for guidance and wisdom as staff, doctors and his caregivers make daily decisions.
I have been coaching Dean through the process of shaving, brushing his teeth and combing his hair. I ask for prayer that his thrush clears up. This morning I placed the toothbrush in his hand and helped him through the process. When he opened his mouth wide enough I quickly slid the brush between his teeth and started rubbing his tongue. I let go of his hand but supported the weight of his arm with my hand under his elbow. It was exciting to see him hold the brush on his tongue and gently move it around! Usually when I let go, his hand drops slowly towards his lap. Often it is difficult to put medicine on his tongue because he clamps his teeth down but he is doing better at opening his mouth.
September 3 - Day 81
Since it was Labor day Dean didn't have to "work." He had a nice rest day! His parents spent the day with us and we took him outside for about two hours. I gave him some ice and did some stretching with his arms and legs. We thank the Lord that the swelling in his left leg has reduced significantly since last week! He is still on blood thinners and I am cautious about keeping his leg elevated. He kept his head up again when I sat him upright in his wheelchair and took off his head rest. I remind him daily that he is getting stronger and God is healing his body. I also tell him that all of you are praying for him!
Other Entries